A weekend of networking, education, recognition of excellence
and giving from the heart
October 11-12, 2019
InterContinental Los Angeles Downtown
900 Wilshire Blvd, Los Angeles, CA 90017
Honorary Chairperson: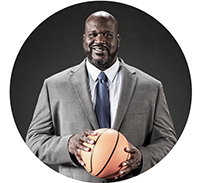 Shaquille O'Neal, EdD
JOIN SHAQ!
FEATURED ITEMS
– The Minority Health Institute supports Affirmative Action and defends diversity at Harvard
– My Life of Pride and Prejudice Before, During and After Harvard – An Invited Essay for the 60th Reunion of the Harvard Class of 1957
By Dr. Richard Allen Williams
– Dr. Richard Allen Williams Scholarship for Medical Students
– A Remarkable Journey: Practicing Medicine with Cerebral Palsy
– ABC Members Celebrated in February Issue of Cardiology
– Link Scholars in Medicine 2018
The Minority Health Institute is dedicated to the elimination of racial and ethnic disparities in medicine, the medical workforce, clinical research, health and healthcare.
The Minority Health Institute was founded by Dr. Richard Allen Williams and incorporated in the State of California in 1987. It obtained its 501 (C) 3  not-for-profit status in 1989.
The Minority Health Institute has a twenty-six year track record of development, coordination, and execution of professional and patient educational programs and collaborative partnerships with the nation's leading academicians, clinicians, researchers, academic medical centers, professional medical societies, government agencies, foundations, community-based organizations and pharmaceutical, biotech and medical device companies.
The Minority Health Institute is the recipient of  plaudits and awards from many national, state, and local government agencies for its efforts to eliminate disparities in medicine and healthcare.